BP1557 - SLA Industries RPG Book
Operative, Employee, Contract Killer, Necanthrope, Ebon, Biogenetic, Corporate. These are the lifestyles available to you when you enter SLA Industries' World of Progress. Society split between truth and deception, conflict and political subversion, style and horror. Television and Insanity. Fighting for your life as an oblivious public watches on, awaiting your last breath between the adverts.
The media channels all the young hopefuls into their vessels. Nihilism is a way of life. Strive for originality in a world of outrage and conformity and diversity. The different get noticed, the truly original survive. Six o'clock horror, every hour on the hour. Halloween Jack claims another victim. Fifteen minutes of fame for the corpse. Don't get famous like him. Change. Become. Evolve. This is the way forward.
The Big Picture rewards the loyal. Be true to yourself. Survive. The truth awaits the inquisitive.
Guns kill but so does the truth.
SLA Industries is a game of urban horror. Its dedicated fan base is a testament to its enduring appeal, so take this opportunity to find out how good it is for yourself.
This is a full reprint of the 2000 edition of SLA Industries.
The book is in a new format - American letter size, bound in high quality hardback.
*Alt. Halloween Jack - every reprint of the RPG sold up until Xmas 2016 will come with a Halloween Jack Alt. Sculpt absolutely free of charge! This is a ltd edition metal Miniature that will only be released with the launch of the RPG reprint. He may.. however.. reappear as a show or Daruma Points special in resin at some point in the future.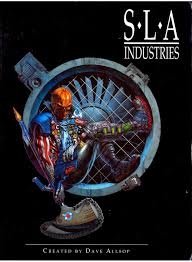 Return to: SLA Industries - Sailors