PikLam011 - Reynold's Regt. Pikeman's Lament Company.
Reynold's Regt. is the sample company Dan Mersey presents in his rulebook 'The Pikeman's Lament' to illustrate how to build a 24 point army. We can put together the army from our 1672 range of Pike & Shot figures so we present it here:
1 Pike Unit
2 Shot Units
1 Dragoon Unit
2 Cavalry Units.
That's 40 foot figures, 13 mounted figures and 1 horse holder with mount. We'll also include free plastic bases and pikes and a free Mounted Commander figure to represent Reynold!
All North Star figures are 28mm sized, made of metal and supplied unpainted.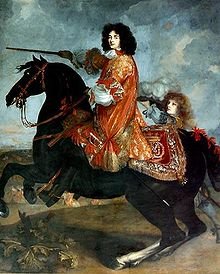 Return to: The Pikeman's Lament - The Pikeman's Lament