NSWL03 - Wizard Level 3
One set of Frostgrave: Ulterior Motives cards, 8 Ulterior Motives gaming pieces and 1 model kit of Kornovik the Barbarian Outcast. Buying this Wizard level 3 offer enters you into the Nickstarter pre-order program.
The Frozen City harbours many secrets, and not all of them are ancient. While most adventurers who brave the dangers seek wealth and lost magic, some journey into Frostgrave for more personal reasons…
This expansion for Frostgrave consists of 40 Ulterior Motive cards, which add variety, depth, and new tactical challenges to wargames in the Frozen City. Each card presents the player with a specific task to accomplish and offers rewards if they succeed. Some of these missions must be revealed to all of the players, others must be kept secret. Will your wizard seek to slay a great demon? Rescue a desperate captive? Bring retribution to an enemy? All wizards seek power, but what are their ulterior motives?

42 oversized cards (40 Ulterior Motive cards, 2 cards of rules).
The Ulterior Motives Terrain set contains 7 pieces of terrain and 1 zombie. Many of the Ulterior Motive cards call on you to use certain terrain pieces, both as mission markers and red herrings to send your opponent in the wrong direction. North Star and Osprey have produced a set featuring all the terrain pieces (and one zombie) a player would need to use the Ulterior Motives expansion. All of the terrain pieces are made of resin, the zombie from metal, and all are supplied unpainted.
Terrain Pieces:
Arcane Disc,
Gateway,
Pit,
Runic Stone,
Sarcophagus,
Statue,
Trapdoor,
Zombie with Scroll carved on it's back.
Kornovik the Barbarian Outcast.
Frostgrave Barbarian character riding woolly Rhino.
15 part highly detailed resin kit.
28mm sized model, supplied unpainted. Needs assembling with glue.
Supplied in a black gift box.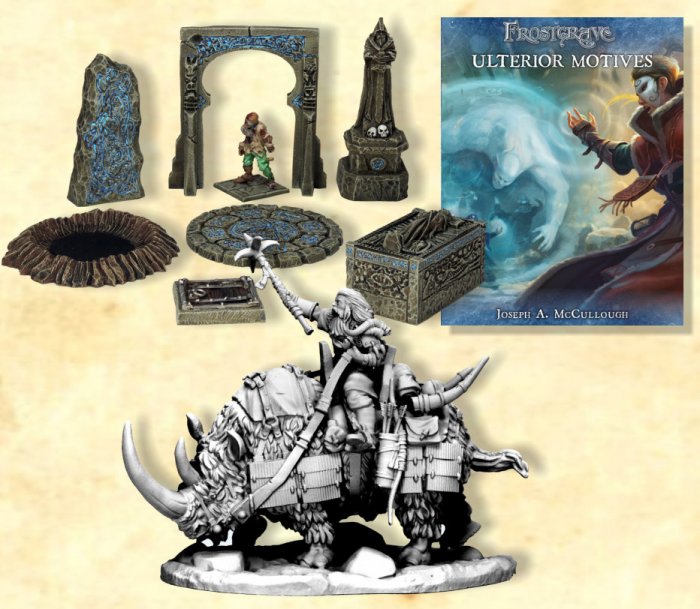 Return to: Frostgrave Extras - Frostgrave